29 July to 31 July 2016
On 29 to 31 July, join Marina Bay Sands as we extend our help to the community and inspire others to give back at our 4th annual Sands for Singapore Charity Festival. Your generous contribution and participation will benefit close to 80 local charities!
Revel in the festive atmosphere and learn more about local charities in a fun and celebratory way. Here's how you can help make an impact!
NEWS: Hollywood Lends Star Power to Sands for Singapore Charity Festival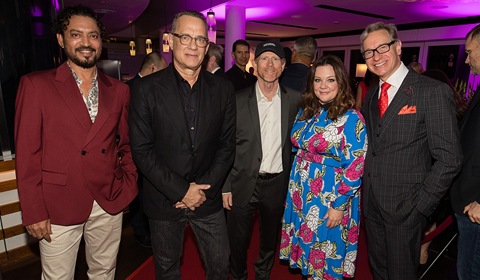 Left to Right: Irrfan Khan, Tom Hanks, Ron Howard, Melissa McCarthy and Paul Feig at Sands for Singapore charity gala.
LEARN MORE >
Play It Forward Charity Race
30 July 2016, Event Plaza
Join Marina Bay Sands' one and only charity race around the property and stand a chance to grab over $75,000 worth of cash and prizes for charities* of your choice!
Round up your friends and family to form a team to complete challenges around Marina Bay Sands. Registration opens on 15 June and will close on 10 July 2016.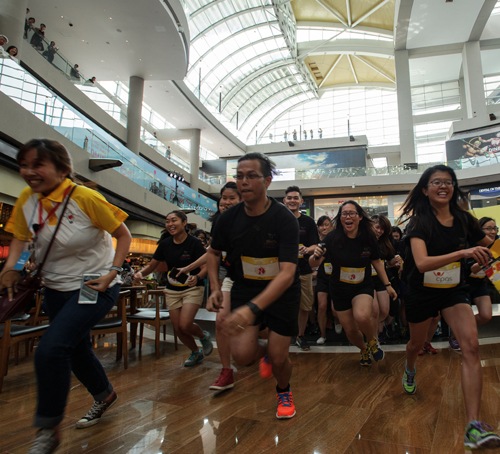 Community Chest Heartstrings Walk
31 July 2016, Event Plaza
Join in the charity 4-kilometre walk around Marina Bay with your family and loved ones at Community Chest Heartstrings Walk 2016, held in support of an inclusive nation.
As the finale to Sands for Singapore Charity Festival, the walk will conclude at the fun-filled Family Carnival at the Event Plaza with booths designed for persons with and without disabilities to enjoy!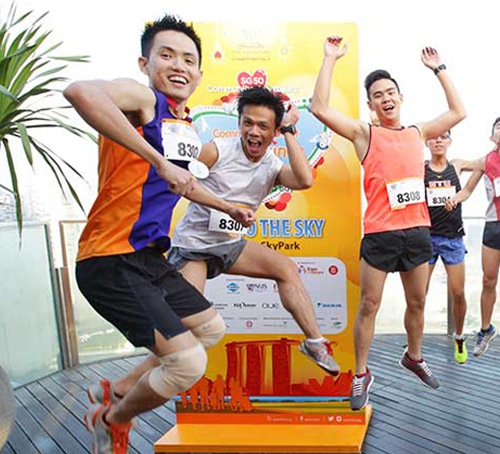 Race to the Sky Vertical Marathon
31 July 2016, Hotel Tower 3
In the heart-pounding competitive Race to the Sky Vertical Marathon, you'll have a thrilling adventure racing other teams up all 57 levels of Marina Bay Sands Hotel. Reach the summit of Sands SkyPark and be rewarded with a panoramic view of the Singapore skyline 200 metres above the city!
All proceeds will be donated to Community Chest Singapore.
Scoops of Hope
15 to 31 July 2016, The Shoppes, Canal Level, B2 (outside Cold Storage)
Enjoy a cup of artisanal gelato specially created by Marina Bay Sands' celebrity chef restaurants! The delicious flavours are:
Coconut Lime Sorbet – db Bistro and Oyster Bar by Daniel Boulud
Mint Chocolate Chip Ice Cream – Bread Street Kitchen by Gordon Ramsay
Melon Sorbet – Mozza by Mario Batali
Strawberry Cheescake Ice Cream – CUT by Wolfgang Puck
Salted Gula Java Gelato – Sky on 57 by Justin Quek
Saikyo Miso and Soy Caramel Ice Cream – Waku Ghin by Tetsuya Wakuda
Thai Tea Ice Cream – Spago by Wolfgang Puck
Irish Yoghurt, White Chocolate and Brandied Cherries – SweetSpot by Christopher Christie

Head over to the gelato pop-up located at The Shoppes at Marina Bay Sands from 11am – 9pm. It is $5 for a single scoop, $8 for a double scoop and $12 for a triple scoop. All proceeds will go to local charities.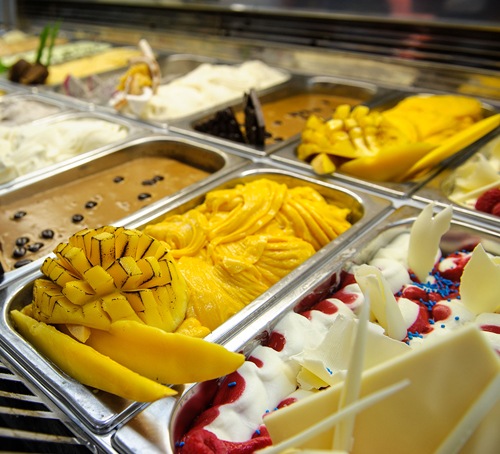 Marina Bay Sands Gives Back
29 to 31 July 2016
Treat yourself to the famous attractions of Marina Bay Sands and give back to the community at the same time! All ticket proceeds will be donated to Community Chest Singapore to help the less fortunate.
Enjoy exhibitions such as Future World: Where Art Meets Science at ArtScience Museum; soak in the stunning views of Singapore atop the iconic Sands SkyPark Observation Deck; have fun with a Sampan Ride at The Shoppes; or revive your inner child at the Skating Rink.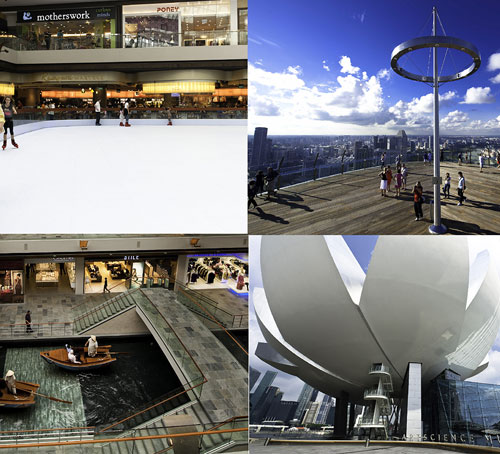 ASPN Charity Gala Dinner
29 July 2016, Sands Expo and Convention Centre
Support the special needs community by joining this special fundraising dinner which will be an evening showcase of the students' talents in music, performing and visual arts. All proceeds will go to Association for Persons with Special Needs (APSN) to fund programmes to enrich its students' social competency and integration into society.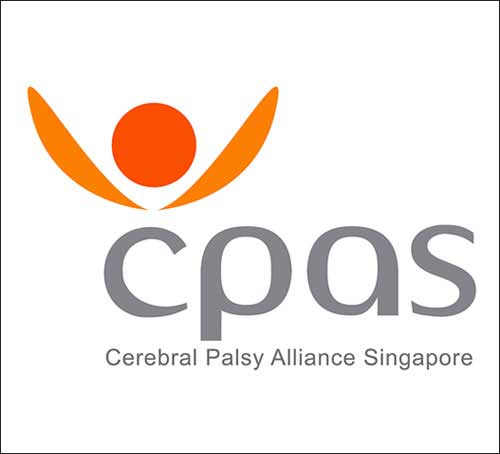 CPAS Charity Dinner
30 July 2016, Sands Expo and Convention Centre
Cerebral Palsy Alliance Singapore (CPAS) will be organising its first-ever charity dinner since it has been established 59 years ago. The event aims to raise the much-needed funds in order to continue providing assistance and care for children and adults with cerebral palsy. Themed "I Believe, An Evening of Possibilities", the dinner will be a celebration of possibilities, of partnerships created and people championed.
Movie Screenings
Fri 29 July, 5.30 – 8pm
Jurassic World
The Jurassic World luxury resort provides a habitat for an array of genetically engineered dinosaurs, including the vicious Indominus rex. When the massive creature escapes, it sets off a chain reaction that causes the other dinos to run amok.
Sat 30 July, 5.30 – 8pm
Furious 7
After defeating international terrorist Owen Shaw, Dominic Toretto, Brian O'Conner and the rest of the crew have separated to return to more normal lives. However, Deckard Shaw, Owen's older brother, is thirsty for revenge.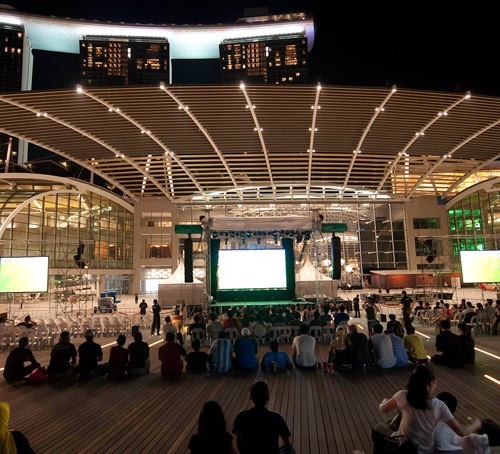 Family Carnival
Sun 31 July
Packed with games, activities and experiential booths designed for people with and without disabilities to enjoy, the Family Carnival will not only give you a better understanding of the challenges faced by our beneficiaries, but also a fun-filled experience for the whole family.
Wonder Full
Fri 29, Sat 30 & Sun 31 July
8 – 8.15pm
Immerse yourself in Wonder Full: an amazing convergence of light, music and sound. Experience a breathtaking 13-minute showpiece of electric lights and laser effects by the waterfront, with the stunning cityscape of Singapore lit up in the backdrop.