Discover the good life with premium cuisines, classic vintages, luxury products and extravagant indulgences in savour. Anticipate a galore of Celebrity Chef interviews, fine dining experiences and luxury product features such as watches, jewellery and cars.
---
Osteria Mozza

Very much like Singaporean cuisine, Sicilian cooking features a variety of influences all thanks to the different cultures found on the largest Mediterranean island. Expect to find Greek, Spanish, French and Arab nuances in Sicilian dishes. This June, Osteria Mozza, the celebrity chef restaurant owned by Nancy Silverton and Joseph Bastianich, is bringing a taste of Sicily to its themed dinner series. (Incidentally, Silverton has been featured on Netflix's Chef's Table most recently, talking about food and fashion.)
Launched since last December, the series highlights the traditions, produce and wines of different regions in Italy to show that Italian cuisine isn't only about pastas and pizzas. On the Sicily regional menu ($108++ per person), the antipasti options are Fiori di Zucca Fritti or Burricotta — both are light but flavourful. For pasta, we particularly like the Francobolli alla Norma, small raviolis filled with burrata, eggplant, and cherry tomato. The secondi options include grilled swordfish and veal chop. The tangy and garlicky Salmoriglio sauce lights up the former, while the marsala wine sauce lends an extra punch to the juicy and succulent veal. Finish off the meal with the Espresso Granita or Cannoli di Ricotta — we plumb for the lightly caffeine-laced dessert as the light whipped cream forms the perfect counterbalance to the heavier notes of coffee and chocolate.
Osteria Mozza's regional menu will be featuring Marche in July and Umbria in August. And we're looking forward to them already.
For reservations, visit marinabaysands/osteria hyperlink: marinabaysands/osteria or Tel: 6688 8522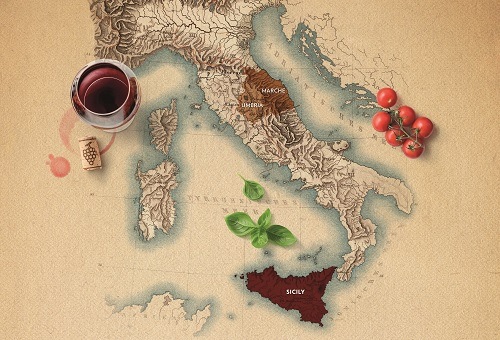 ---
TWG Tea
Nothing makes for a better pick-me-up than a thirst-quenching glass of iced tea on a sweltering summer day. And we have TWG Tea to thank because it has recently launched a luxurious new collection of tea bags, specially crafted for the preparation of iced teas.
These teas, available in 15 delicious varieties, are the perfect accompaniment for summer parties. And with each tea bag potent enough to make one litre of iced tea, it cuts down preparation time and fusses tremendously, leaving you with more time to entertain your guests.
Besides providing thirst quenchers, TWG Tea has also created the Iced Tea Carafe series—available in eight bright, summery colours. A beautiful accessory on the dining table or pool deck, the snazzy receptacle makes for an excellent conversation starter too. Serving your guests in style has never been any easier.
Epicurean Market
Three reasons why the Epicurean Market at Marina Bay Sands is back for the fifth year running.
1. There is a wide array of food and beverage activities to excite visitors and heighten their taste buds.
2. Celebrity chefs the like of Tetsuya Wakuda of Waku Ghin, David Myers of Adrift and Nancy Silverton of Osteria Mozza will be there to whip up sumptuous culinary creations.
3. Bring home unique produce and gourmet items at the specially curated Farmer's Market.
Epicurean Market is only open from August 11 to 13, at Sands Expo and Convention Centre, tickets at marinabaysands.com/epicureanmarket
---