24 Nov 2021
Often considered the most important meal of the day, some would argue that it is also the best. Whichever side of the plate you land on, Marina Bay Sands is home to some of the best restaurants in Singapore – where you can enjoy delicious breakfast menus.
Before you visit these restaurants, we recommend browsing the restaurant pages to view their breakfast menu and the latest breakfast promotions.
All Day Breakfast | Weekday Breakfast Sets | Weekend Breakfast Sets
All Day Breakfast
If you don't plan your trip ahead and decide on the destinations as you go, these
top restaurants in Singapore
, which are not restricted by the time limit, might be the perfect choice to start your day.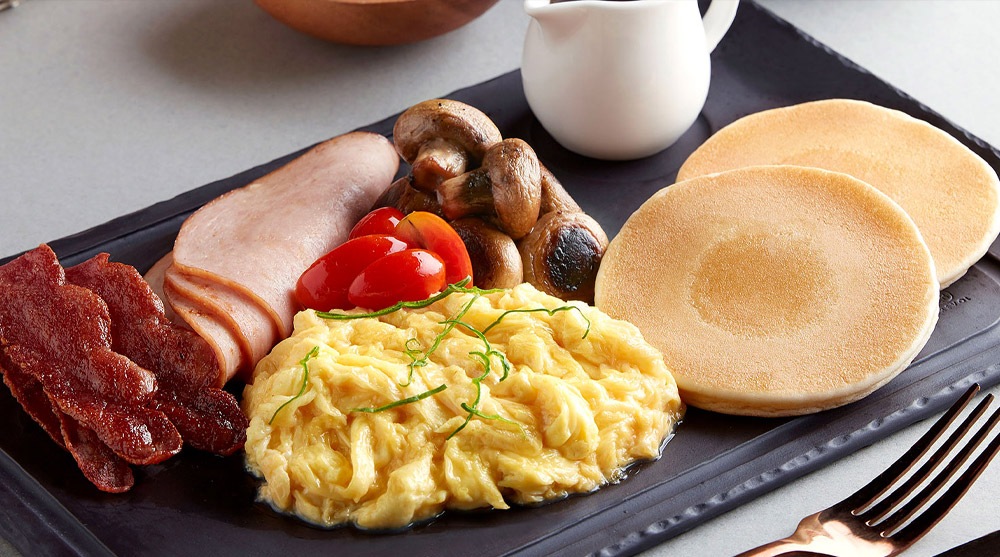 BEANSTRO

Breakfast at BEANSTRO is an all-day affair; expect the tantalising aroma of freshly ground coffee in the chic interior for a warm, welcoming ambiance throughout the day. The breakfast menu features caffeinated favourites like Espresso, Latte, Flat White, Americano, as well as specialty cold drip brews and original ice-blended Frappuccino-style drinks.
For eats, you'll get your fill with Beanstro's Breakfast Platter – a hearty combination of eggs, grilled sausage, turkey bacon, and toasted bread – or the 3 Egg Omelette filled with greens, mushrooms, turkey bacon, and cheese. If you're craving for something sweet to start your day, the decadent pastries, cakes, and cookies will surely do the trick.
BEANSTRO is located at B2-20, The Shoppes, and open daily for breakfast from 8.30am – 10pm.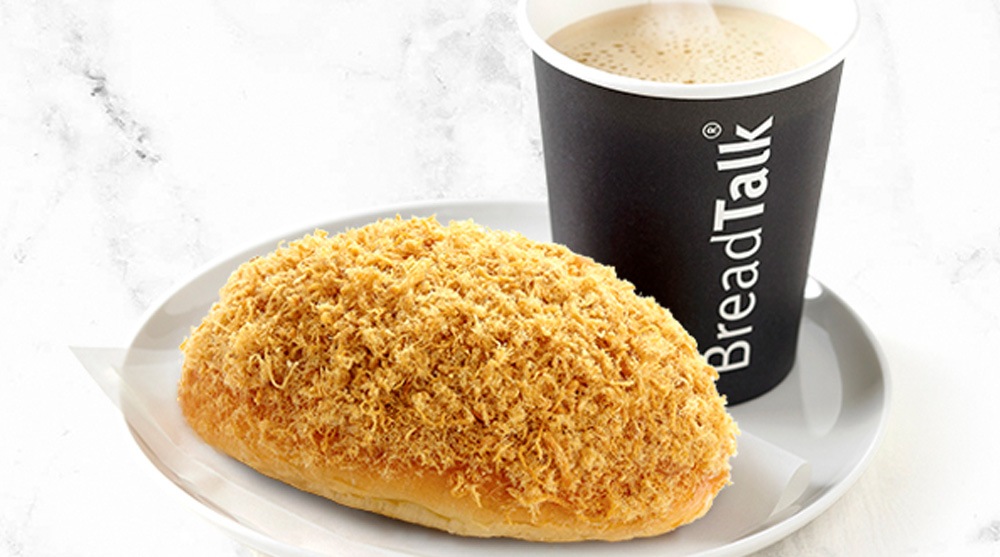 BreadTalk

There's nothing better than the smell of freshly baked bread in the morning, and they don't come much fresher than BreadTalk. As a homegrown staple, this award-winning bakery has gained a dedicated fanbase for its gourmet buns and floss. BreadTalk is celebrated for its open kitchen concept, where traditional and original creations inspired by Asian and European-style baked goods are on full display.
Have your toast with a twist with Sweet Potato, Pumpkin, and Yam toast breads. For breakfast bites on the go, the Flosss – a bun topped with copious amounts of BreadTalk's signature pork floss – is a must-try, along with their Curry Chic and Sausage Standard. Pair any of these up with a house-made Cold Brew Green Tea, Milk Tea, or Soy Milk for a filling breakfast.
BreadTalk is located at B1-01F, The Shoppes, and open daily. View operating hours here.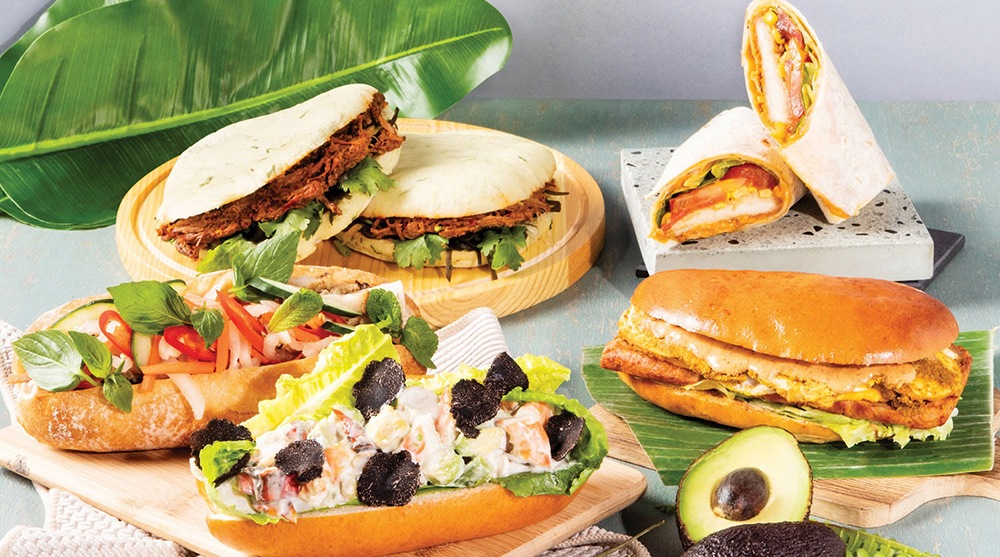 Origin + Bloom

Centred at the heart of a blossoming floral oasis, the menu at Origin + Bloom finds its inspiration in the craft and kitchens of Europe's great artisans. Breads, gourmet sandwiches, pastries and desserts are the headliners here, each beautifully prepared to present a coterie of original classics and new creations inspired by seasonal produce available.
Dig into a variety of freshly baked breads from Banana Walnut to Pecan Nut Raisin. For scrumptious sandwiches, The Laska and Lobster & Prawn Roll with Truffle are savoury delights, which are available from 10.30am. For those who prefer something light yet filling for their breakfast, look no further than the Tuna Niçoise, doused in balsamic vinaigrette. Come hungry or share with a friend for a proper Marina Bay Sands breakfast experience.
Origin + Bloom is located at Lobby, Hotel Tower 3, and open daily for breakfast from 8am - 11pm.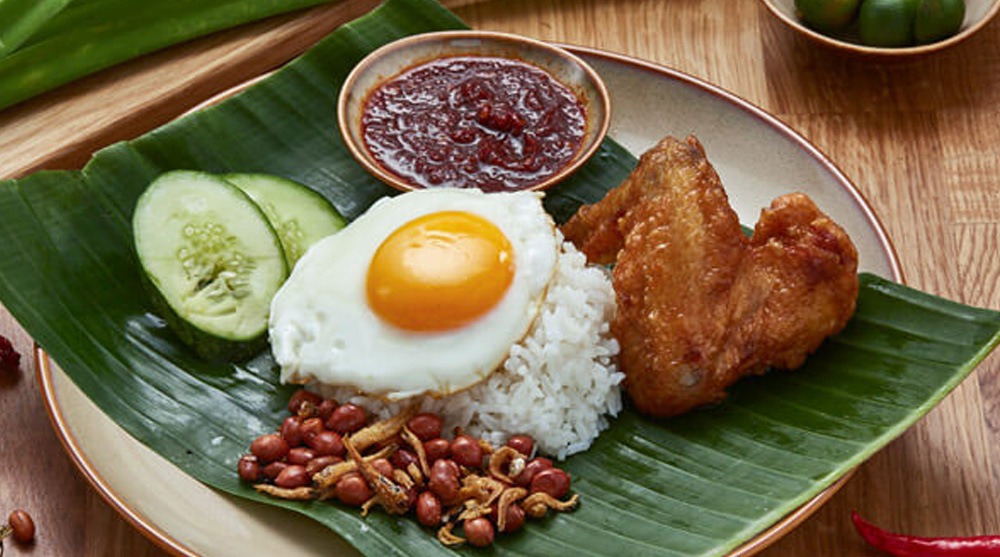 Rasapura Masters

Whether it's a bustling hawker centre or a secluded cafe, traditional Singaporean breakfast dishes like Nasi Lemak, Laksa, and Kaya Toast are enjoyed by locals and tourists alike. There's no better way to experience Singaporean fare than at Rasapura Masters, where you'll find a diversity of cuisines scattered across endless stalls.
Find a spot, pull up a chair, and tuck into the quintessential breakfast of Kaya Toast, half-boiled eggs – not forgetting a cup of rich Kopi – to jumpstart the morning. Or order a plate of Butterfly Pea Flower Nasi Lemak for steamy coconut rice served with crispy chicken wing, fried egg, and spicy sambal. Of course, you can't go wrong with Roti Prata or Fishball Noodles for a hearty breakfast.
Rasapura Masters is located at B2-50, The Shoppes, and open daily. View operating hours here.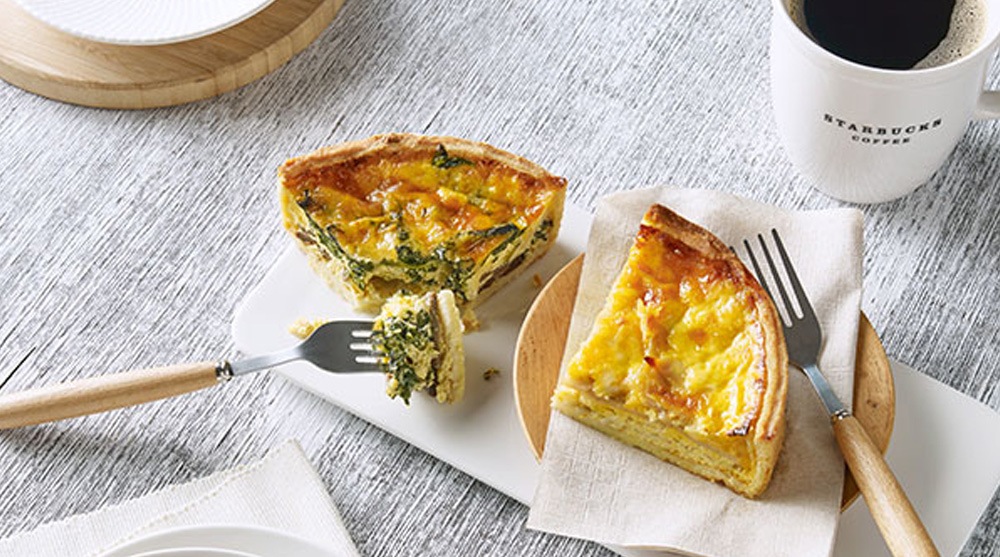 Starbucks Reserve

One of the biggest brands in the world, Starbucks is well-known for its flavourful coffees and carefully crafted ambience. Expect nothing less at Starbucks Reserve, where you'll find a curated selection of the most extraordinary coffees Starbucks has to offer, prepared with elevated brewing techniques for a range of delicious beverages.
The breakfast menu presents an array of sets that are as healthy as they are hearty, with each dish coming in at under 500 calories. Enjoy guilt-free eats like the Egg White, Roasted Pepper, Mushroom & Cheddar Wrap, the Chicken, Kale & Cheese Wholemeal Sandwich, or the Turkey Ham and Triple Cheese Toast. All sets come with a freshly brewed cup of Joe, but coffee lovers should try the specialty blends prepared with their favourite brewing method.
Starbucks Reserve is located at B2-56, The Shoppes, and open daily. View operating hours here.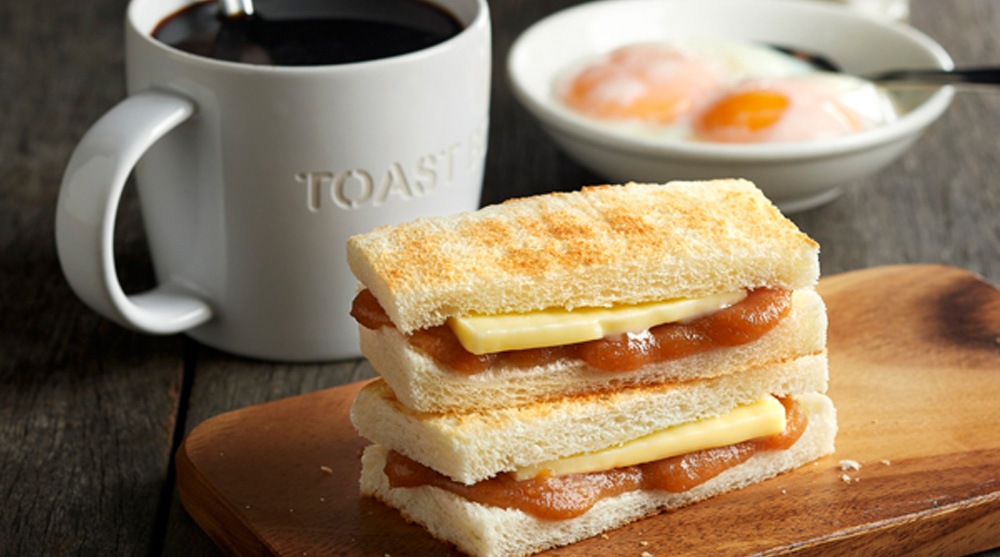 Toast Box
Singapore's kaleidoscopic history of settlers has shaped the nation's uniquely charming and genial character. The rich cultural influences can be found in everything from fashion to architecture, and is at the heart of everything at Toast Box. Since 2005, Toast Box is a soulful celebration of Singapore's Nanyang Kopi culture in the 1950s to 1960s.
Each Toast Box location evokes a nostalgic feel with charming traditional décor, and the same goes for their Marina Bay Sands cafe. For savoury bites, try the Cheesy Ham and Egg Thick Toast or Peanut Thick Toast, which is spread with a generous dollop of creamy peanut butter. Complement these dishes with soft-boiled eggs and a cup of freshly brewed Kopi for a delicious breakfast at Marina Bay Sands.
Toast Box is located at B1-01E, The Shoppes, and open daily. View operating hours here.
Weekday Breakfast Sets
If you are going on a business trip, or arriving in Singapore on a weekday and still want to fully enjoy your stay, these
fine dining restaurants
must be on your list.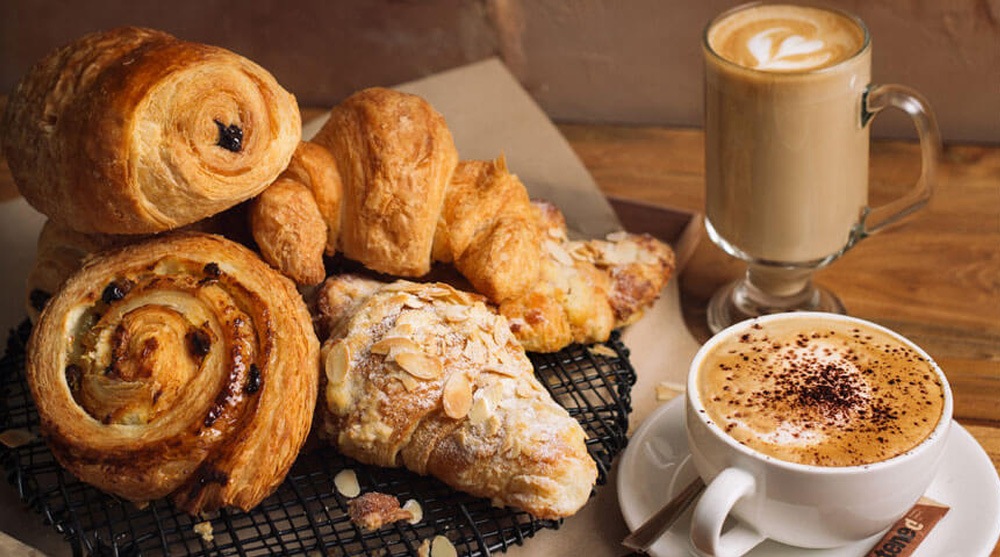 Da Paolo Gastronomia

First opened in 1989 by Paolo and Julia Scarpa, the idea behind Da Paolo was to transport diners to Italy with a humble trattoria experience offering authentic Italian food, which quickly expanded with Gastronomia. A popular hangout for breakfast at Marina Bay Sands, Da Paolo Gastronomia serves up freshly prepared pastries and paninis along with quaint breakfast sets and artisanal Italian coffees for a mouthwatering colazione.
Nosh on the Eggs Breakfast Set, made just the way you like them with your choice of coffee, served with salad and toast. Da Paolo Gastronomia offers an array of pastries including croissants, scones, and their croissant-donut hybrid, Crodo™. Pair any pastry with a Mint Mocha, Latte, or a cup of tea for a sweet way to start the day.
Da Paolo Gastronomia is located at L1-87, The Shoppes, and open daily from 8am – 10pm.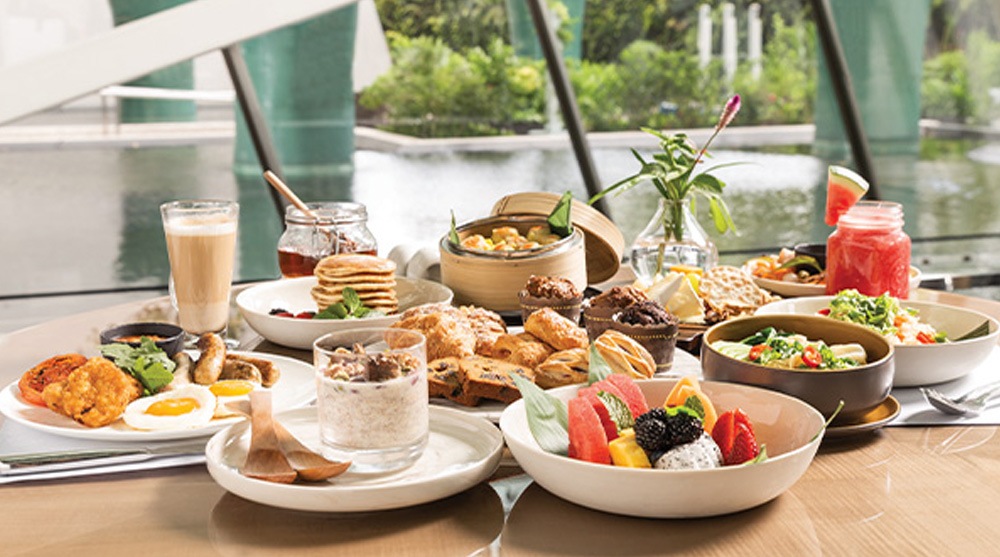 RISE Restaurant

Singapore's gastronomic heritage can be experienced in an appetising breakfast at RISE, one of the best Chinese restaurants in Singapore. Using time-honored family recipes, the chefs at RISE blend rich cultural traditions with elevated cooking techniques to create comforting dishes bursting with flavour and authenticity for a Marina Bay Sands breakfast not to be missed.
The menu is vast, with Breakfast Sets that encapsulate the culinary spectrum of Singaporean cuisine, including Chinese, Malay, Indian and Japanese. Highlights from the varied menu include RISE Fishball Noodle Soup, flavourful Mee Rebus, and vegetarian friendly Vadai, Rice Khichdi & Poori. If you're in the mood for a Western breakfast, the RISE Omelette and dreamy Pancakes are popular crowdpleasers.
RISE is located at Lobby, Hotel Tower 1, and open daily for breakfast from 6.30am – 10.30am.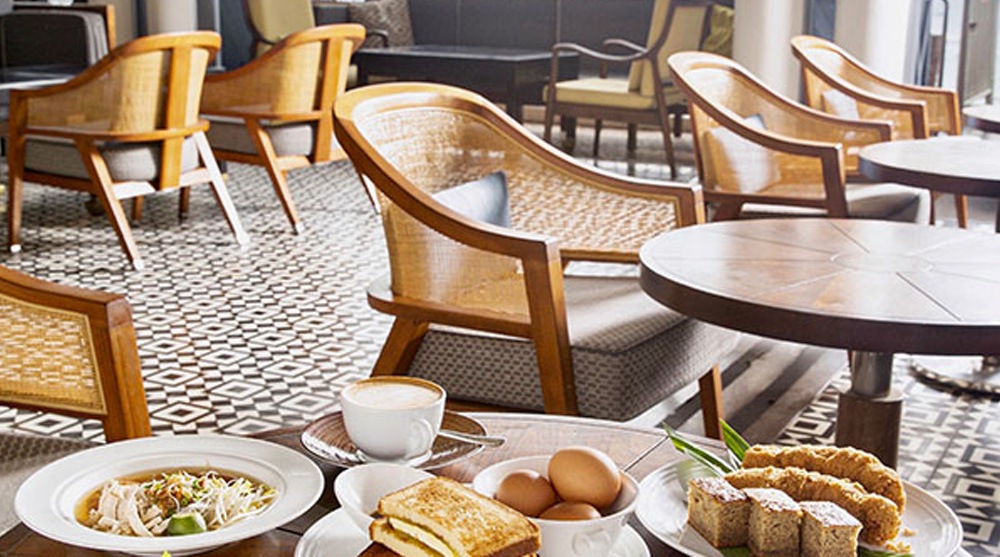 Spago Bar & Lounge

If you prefer breakfast with a view and a dash of sophistication, Spago Bar & Lounge is definitely worth setting your alarm for. Dine al fresco while soaking in the vistas of the Singapore skyline at one of the best rooftop bars in Singapore. Tuck into an eclectic Breakfast Set Menu that offers everything from Dim Sum and Congee to Eggs Benedict and Nasi Lemak.
Try Asian specialties like Kimchi Soup, Bee Hoon Soto, or Fish Curry with Prata, or enjoy western favourites such as Buttermilk Pancakes and House-made Muesli. Pair your breakfast with a cup of fresh juice and raise a glass to the high life. Marina Bay Sands is also home to CUT by Wolfgang Puck, one of the most sought out steakhouses in Singapore.
Spago Bar & Lounge is located at L57, Sands SkyPark, Hotel Tower 2, and open daily for breakfast from 7am – 10.30am.
Weekend Breakfast Sets
Weekend is the time for fun and upbeat experiences with loved ones. Enjoy your stay by having breakfast with the
best western food
at those restaurants.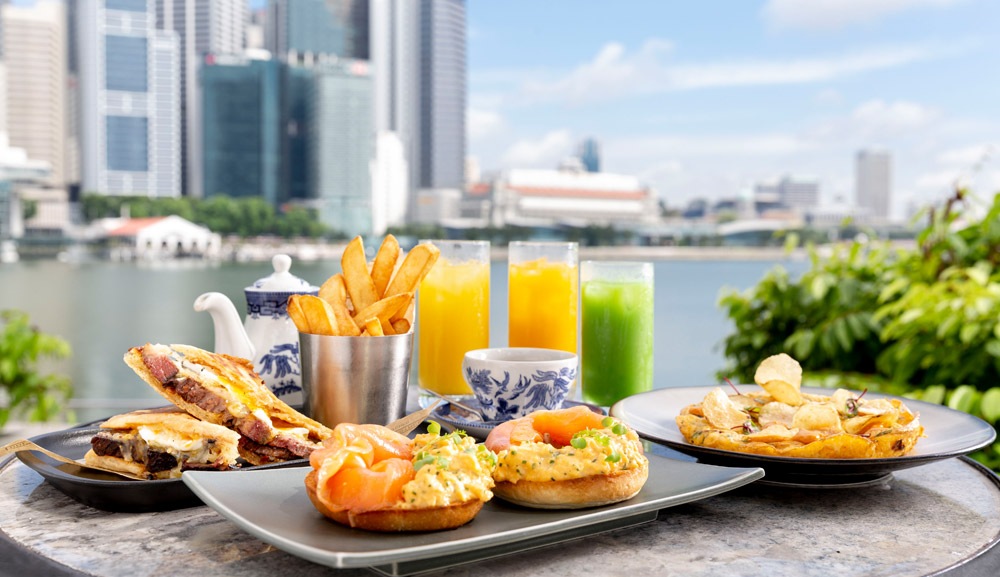 Bread Street Kitchen by Gordon Ramsay

If you're looking for a restaurant in Marina Bay Sands for a lively weekend breakfast, Bread Street Kitchen by Gordon Ramsay should be on your list. With the glimmer of the waterfront setting and the culinary expertise behind the menu, you're sure to enjoy great food and ambience when you dine.
With traditional British fare on the breakfast menu, take your pick from English Breakfast with all the hits such as eggs, bacon, sausage mushrooms, or sweet, buttery Buttermilk Pancakes with honeycomb butter, banana, and maple syrup. Or mix it up with the Spanish Tortilla – omelette with caramelized onions, smoked paprika aioli, and salt and vinegar chips on the side – or the melty, savoury Beef Brisket Sandwich.
Bread Street Kitchen by Gordon Ramsay is located at L1-81, The Shoppes, and open for breakfast on weekends from 8.30am - 10.45am.
BOOK DIRECT AND SAVE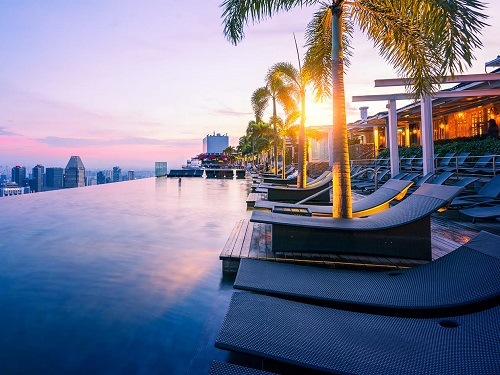 Book direct with us and enjoy guaranteed savings of $20 per night.
Guaranteed savings of S$20 per night compared to other online travel sites
6% Reward Dollars on your hotel room with your FREE Sands Rewards LifeStyle membership
Free entry to SkyPark Observation Deck & Infinity Pool


MORE STORIES FROM SINGAPORE TRAVEL GUIDE