Explore the latest happenings and the hottest events at Marina Bay Sands. With gala premieres, film previews and interviews with the stars, it celebrates the exuberance and provides a glimpse into the verve of the iconic property.

SUBSCRIBE
| | |
| --- | --- |
| | Enjoy your free digital edition of Sands Style. |
| | Enjoy your free digital edition of S Style, the fashion supplement. |
---
SGIFF Red Carpet
The largest and longest-running film event locally, the Singapore International Film Festival (SGIFF) is a key signature event in the arts calendar. This year's edition is no exception as SGIFF continues its focus on ground-breaking Asian cinema for Singapore and the region. That explains why the red carpet is graced by film critics, movie buffs, producers, directors and celebrities. Here's a look at who lit the red carpet ablaze this year.
Photo credit Bonnie Yap & SGIFF
---
In Conversation: Asia's Got Talent Judges
Some 90 students were part of the lucky batch of attendees who attended a special "In Conversation With" series with the three judges of Asia's Got Talent. Grammy Award-winning producer David Foster, Korean-American music star Jay Park and singer Anggun took to the stage and shared their experiences with the students from Orita Sinclair School of Design and Music, Students Care Service, AWWA, Rice Company, Singapore International Film Festival and Lasalle School of Music. The session is part of Marina Bay Sands' "In Conversation With" series, which features prominent speakers from various creative industries.
---
David Beckham at The Bird
The Bird Southern Table & Bar welcomed a special guest one Sunday morning to the delight of many. David Beckham swung by during the weekend, when he was in Singapore for the SGIFF, and spent the morning with children decorating pastries. The father of four admitted that sweets were well-received in the Beckham household as he shared tips with the 40 children on pastry decoration. Together with Beckham was John Kunkel, CEO of The Bird.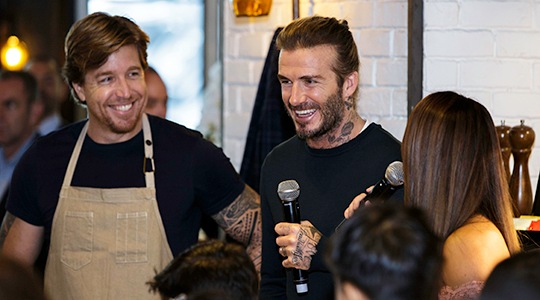 ---
---

SUBSCRIBE
| | |
| --- | --- |
| | Enjoy your free digital edition of Sands Style. |
| | Enjoy your free digital edition of S Style, the fashion supplement. |