From 23 June till 30 September 2018
Come walk with the beasts, as ArtScience Museum unveils the first South East Asian exhibition of Theo Jansen's world-famous moving sculptures.
Dutch sculptor, Theo Jansen, has spent the last 28 years developing wind-powered machines called Strandbeests, which he describes as "a new species on Earth". Jansen's extraordinary Strandbeests, or 'beach animals', blur the lines between art, science, engineering and performance.
Wind Walkers: Theo Jansen's Strandbeests is a major retrospective of Theo Jansen's life work. In the spirit of Leonardo da Vinci, Jansen trained as a physicist, then became a painter, before focusing his attention on sculpture. He has applied his background in both art and science to create over 30 self-propelled Strandbeests that utilize wind power to walk in a startlingly lifelike fashion. Originally conceived as a solution to address the threat of flooding caused by rising sea levels, Jansen envisioned the Strandbeests as wind-powered creatures roaming the beaches, pushing and piling sand on the shore to form natural barriers.
Dynamic and interdisciplinary, the exhibition brings together 13 large-scale Strandbeests in the galleries of ArtScience Museum, from the most recent moving strandbeests to 'fossils' of past beasts. Visitors will be able to get up close and personal with these larger-than-life creatures, by walking with them in the galleries, and experiencing their lifelike movement, first-hand.
Wind Walkers shows how Jansen's beach-walking creatures have dramatically advanced in form and function over the years, becoming more than the practical machines he originally intended, and instead evolving into a new species of man-made animal. As well as showcasing 13 extraordinary Strandbeests in Singapore for the first time, the exhibition also features films, prints, artist sketches, and prototypes, as well as an immersive environment that recreates Jansen's workshop, and interactive activities that explore the creativity of Jansen's engineering.
Constructed from everyday materials such as plastic piping and bottles, Jansen's wondrous, large-scale kinetic sculptures are propelled by the wind. Over the past 28 years, they have evolved into complex creatures that are able to respond to environmental conditions. There are different generations of Strandbeests classified into time periods similar to geologic eras, with each Strandbeest having a Latin name reflective of its characteristics.
Visitors will meet 13 extraordinary Strandbeests in the exhibition, including:
---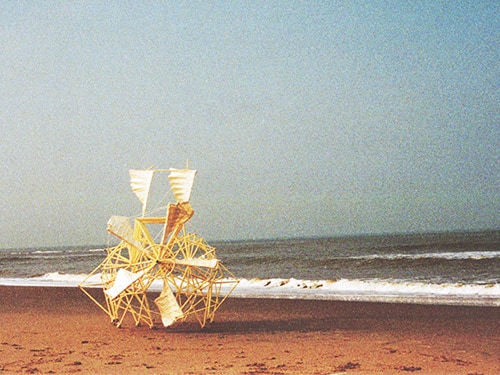 Animaris Rigide Properans
Tepideem, the Less-Hot Period
1994 ­­– 1997
| | | |
| --- | --- | --- |
| | Rigide Properans is a Strandbeest that can walk sideways against the direction of the wind at considerable speed. Jansen calls it his 'sturdy hasty beach animal'. Rigide Properans is now considered a fossil – a term Theo Jansen uses for his retired creatures that can no longer move. | |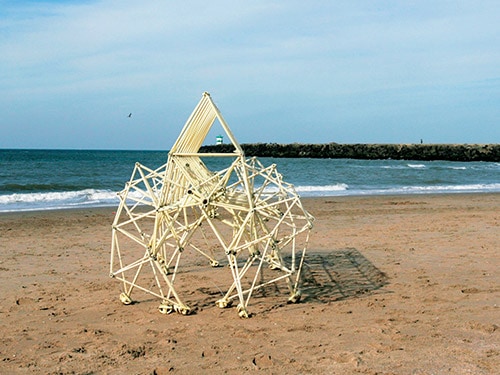 Animaris Ordis
Cerebrum, the Brain Period
2006 – 2008
Small and mobile, Ordis is moved using wind power generated through its sail. One of the quintessential Strandbeests, Ordis is also perhaps the most versatile, as it functions as the walking unit of several other larger Strandbeests. In the galleries, where there is no wind, it can be moved by assistants, who can pull it along the gallery floor. It's astonishing lifelike walking motion is typical of Jansen's Strandbeests.

Click here to view the video.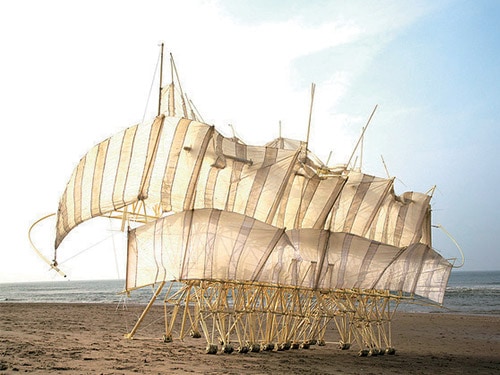 Animaris Apodiacula
Aurum, the Period of Gentle Breeze
2013 – 2015
Apodiacula is one of the tallest Strandbeests created by Jansen. It has striking protruding beams that work as outriggers, giving Apodiacula stability in strong winds and allowing it to walk without toppling over.

Click here to view the video.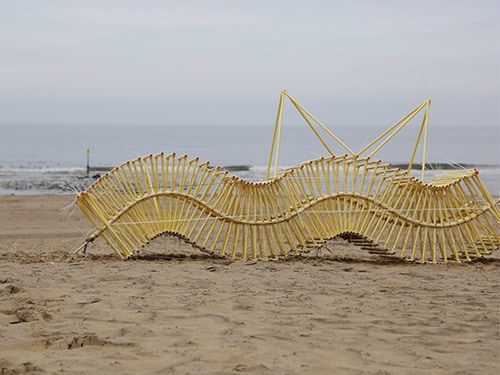 Animaris Burchus Primus
Bruchum, the Caterpillar Period
2016 – Present
| | | |
| --- | --- | --- |
| | Burchus Primus is an unusual Strandbeest, adopting a completely different form and function to its wind-powered cousins. Rather than being driven by the wind, it is pulled across the beach by people. It looks like a caterpillar both in appearance and movement. Its new style of walking allowed for better manoeuvring on rough and uneven sand. | |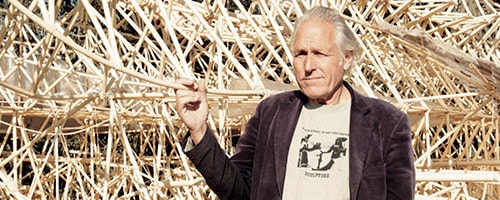 Theo Jansen (born 1948, the Netherlands) studied physics at Delft University of Technology, but left to pursue a career in art. He started out as a landscape painter, but shot to prominence in 1980 when he flew a "UFO" made of plastic sheeting on a light frame across the skies of Holland. His engineering background and keen interest in science have continually shaped his art. Jansen's most renowned works are his Strandbeests, which he continues to build on the Dutch seaside.
Jansen has exhibited his work internationally, including at the Exploratorium in San Francisco, USA; the Peabody Essex Museum in Massachusetts, USA; the National Museum of Emerging Science and Innovation in Tokyo, Japan; Cité des Sciences and Palais de Tokyo in Paris, France; the Reina Sophia in Madrid, Spain; the Institute for Contemporary Art in London, UK and the Stedelijk Museum in the Netherlands. He has been profiled by The New Yorker, The New York Times, the BBC and Wired amongst others and his TED talk has attracted over four million online views. His Strandbeests even starred in an episode of The Simpsons.
For more information, please visit www.strandbeest.com

Audemars Piguet and Art
Audemars Piguet has always sought to integrate creative vision with superb artistry and technical mastery. Pursuing its commitment to ingenuity, innovation, and a spirit of independence, Audemars Piguet formed a partnership with Art Basel in 2013, supporting the world's premier contemporary art shows in Hong Kong, Basel and Miami Beach. Since then, Audemars Piguet has presented innovative concepts at all three Art Basel shows, inviting artists to creatively interpret Audemars Piguet's heritage and origins.

Audemars Piguet supports annual projects that give artists the freedom to create works that offer their own, highly personal interpretation of the company's cultural and geographical origins. These projects are emblematic of the company's most deeply held values and testify to the deep and fertile dialogue between two areas of creative endeavour that have much to say to each other. For Art Basel's 2014 show in Miami Beach, Audemars Piguet co-presented Theo Jansen's Strandbeest, animal-like kinetic sculptures which harnessed wind power to walk along the seashore in Miami Beach. For Audemars Piguet, these complex and compelling creatures evoke the essence of watchmaking in a language that could only have been developed by an artist.

For more information, please visit www.audemarspiguet.com

*All images and videos: © Media Force